Wholesale VA Underwriting Guidelines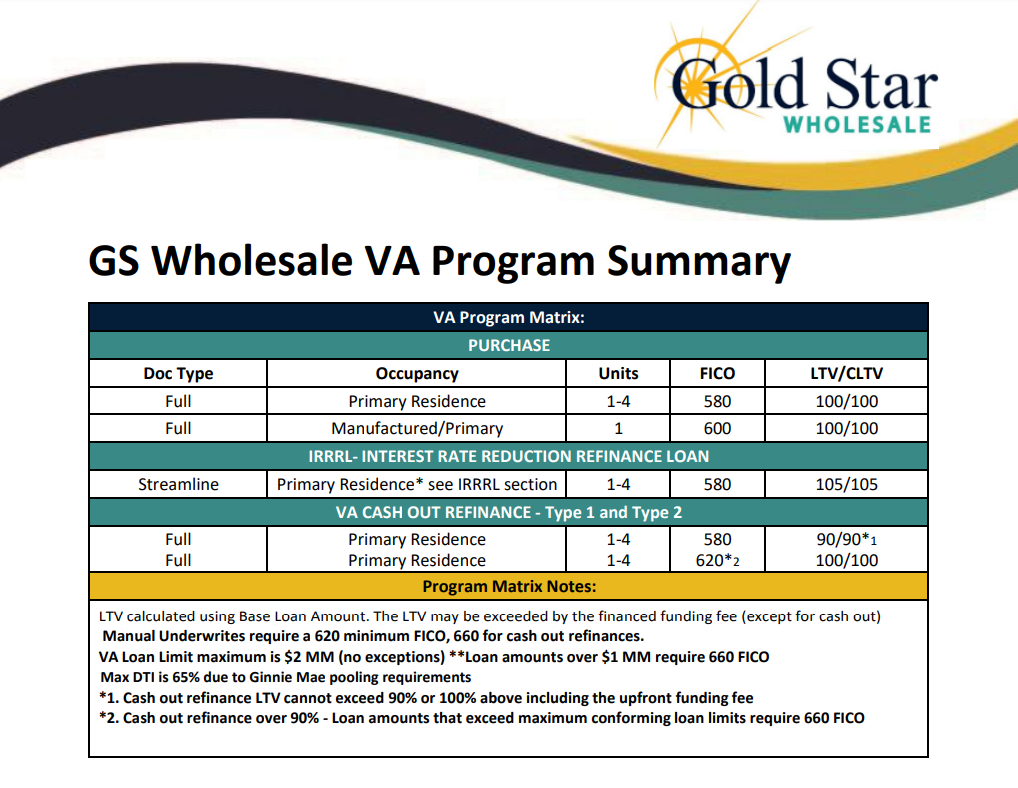 Product Detail and Their Guidelines
• AUS
o DU or LP Approve/Accept recommendations are allowed.
o Manual downgrades are allowed; however, the Approve/Accept recommendation findings must
be included in the file.
o Refer/Manual underwrites are allowed on exception basis only. Loans must be run through AUS
first and receive a Refer recommendation. The Refer findings must be included in the file.
o Manual underwriting is required on IRRRLs.
• Ability to Repay/Qualified Mortgage Rule
o Gold Star will purchase only Safe Harbor Qualified Mortgages as defined under HUD and the
Dodd-Frank Wall Street Reform and Consumer Protections Act.

• Age of Documents
o 120 days for existing construction from the date the note is signed.
o 180 days for new construction.
o Preliminary Title Policies must be no more than 180 days old on the date the Note is signed.

• Amortization Type
o Fixed Rate

• Appraisals
o Appraisal transfers are allowed only for same Veteran only.
o All appraisals must be ordered through VA WebLGy, which will assign the order to a VA
approved Appraiser.
 Include an interior and exterior inspection of the subject property
o A Notice Of Value for property appraised as existing or new construction is valid for six months.
Rapidly fluctuating real estate market conditions may temporarily dictate the use of a shorter
validity period.
o No new Appraisal can be requested on a property which already has a valid VA value
determination (no duplicate or second appraisals).
o Unpermitted Property Additions
 Properties with "unpermitted" structural additions are allowed under the following
conditions:
 The subject addition complies with all investor guidelines;
 The quality of the work is described in the appraisal and deemed acceptable
("workmanlike quality") by the appraiser;
 The addition does not result in a change in the number of units comprising the subject
property (e.g. a 1 unit converted into a 2 unit);
 If the appraiser gives the unpermitted addition value, the appraiser must be able to
demonstrate market acceptance by the use of comparable sales with similar additions
and state the following in the appraisal:

• Non-Permitted additions are typical for the market area and a typical buyer
would consider the "unpermitted" additional square footage be part of the
overall square footage of the property.

• The appraiser has no reason to believe the addition would not pass inspection
for a permit.

• Assignment of Mortgages
o All loans must be registered with MERS at time of delivery and a MERS transfer of beneficial
rights and transfer of serving right must be initiated by the Seller, within 24-hours of purchase.

• Assumability
o Government programs are assumable.

• Borrowers
o Primary Borrower must be a Veteran with eligibility documented with a Certificate of Eligibility
(COE), which will also indicate the Veteran's Entitlement.
o Resident Alien permitted if primary Borrower is a Veteran.
o Joint loans are not allowed (Unmarried non-Veteran Co-Borrower would be an example of a
non-allowed joint loan.) A Veteran borrower plus spouse Co-borrower is not considered a joint
loan.
o Dual entitlement loans must be sent directly to the VA for final sign off after UW has been
completed.

• Buy downs
o No Temp Buy downs.

• Condominiums
o Condos must be approved by VA.
o IRRRLs do not require a condo approval.

• Credit
o All Borrowers must return at least 1 credit score via three-in-file merged credit report.
o A full tri-merge credit report is required for all Borrowers on all transactions. For VA Interest
Rate Reduction Refinance Loan (IRRRL) transactions, a tri-merge credit report is required to
verify a 12-month mortgage history and a credit score for each Borrower.
o Non-traditional credit is not allowed.
o If the subject property is located in a community property state and the Borrower has a nonpurchasing spouse, a credit report for the non-purchasing spouse must also be ordered.
o Cannot be delinquent on any Federal Debt unless the delinquent account has been brought
current or a satisfactory arrangement has been made – Check CAIVRS.
o Borrower must be 1x30 for the last 12 month's mortgage payments (if applicable).
o Credit report inquiries dated within the previous 90-days: a letter from the creditor, or if such
letter is unobtainable, a signed statement from the Borrower may be used to determine
whether additional credit was obtained.
o **Loan amounts above $1.00 MM require credit score 660

• Derogatory Credit
o VA Fixed
 Bankruptcy, Foreclosure, Deed in Lieu/Short Sale: Per AUS or the VA Lender's Handbook
for manually downgraded and manually underwritten loans.
 All judgements must be paid in full or subject to a repayment plan with a history of
timely payments
 VA IRRRLs: Bankruptcy and foreclosure waiting periods do not apply. A 12-month on
time mortgage history is required.

• Documentation
o Full
o Streamline
o As determined by AUS

• Down Payment Assistance
o Mortgage Credit Certificates (MCCs) are allowed for eligible borrowers but CANNOT be used for
qualifying.

• Employment/Income
o Active Military incomes must be documented with a Leave and Earning Statement (LES)
o Provide an acceptable VVOE for all Borrowers that are a source of repayment.

• Entitlement
o Entitlement is the amount of a VA Guaranty available to a Veteran for use on a loan. The
amount of entitlement will be displayed near the center of the COE.
o Veterans with partial entitlement are allowed provided both of the following condition are met:
 The VA Guaranty covers at least 25% of the total loan amount, and
 There is no evidence VA has suffered a loss from the Veteran (such as a compromised
entitlement on the COE or prior VA Loan foreclosure, deed-in-lieu or short sale).
o If Borrower is not allowed full entitlement, there will be overlays. Consult GS Underwriting.

• Escrow Holdbacks
o If adverse weather conditions prevent completion of the repairs, Gold Star will permit escrow
accounts established by the Seller for postponed improvements provided they comply with VA
requirements.
o Additional requirements:
 Gold Star will issue a post funding condition for 1004D confirming completion will be
placed on loans where appraise is "subject to" completion of improvements.
 Gold Star will issue a post funding condition for a final title policy endorsement that
ensures the priority of the first lien.

• Escrow / Impounds
o An impound account for collection of taxes and insurance (or additional escrow items) is
required.

• Exclusionary Lists
o All Borrowers must be screened by CAIVRS to determine there have been no delinquent
payments on Federal debt obligations.

• Funding Fee
o If the Veteran is required to pay the Funding Fee, confirmation of Funding Fee payment must be
included in the file.
o The Funding Fee may be financed in the loans
o The following Veterans are exempt from paying the funding fee:
 Veterans receiving VA compensation for service-connected disabilities
 Veterans who would be entitles to receive compensation for service-connected
disabilities if they did not receive retirement pay
 Veterans who are rated by VA as eligible to receive compensation because of predischarge disability exam and rating
 Veterans with a memorandum rating based on pre-discharge review of existing medical
evidence
 Veterans entitle to receive compensation, but who are not presently in receipt of the
compensation because they are on active duty
 Surviving spouses of Veterans who died in service or from service-connected disabilities,
whether such surviving spouse are Veterans with their own entitlement and whether
they are using their own entitlement on the loan

• High Cost / High Priced
o Not allowed

• IRRRL
o Existing VA loan to be paid off must meet 210 days from first payment date and six on time
payments prior to loan closing. No exceptions.
o Owner-Occupied OR may be Second Home or Investment Property if Veteran can certify the
property had previously been their primary residences (VA form 26-1820 required)
o Maximum 105% LTV/CLTV based upon Total Loan Amount (Base loan amount plus financed VA
Funding Fees)
o The Borrower(s) must be the same except:
 For the removal of a non-Veteran spouse due to death or divorce (provide supporting
documentation indicating even occurred at least 12 months before the time of
application).
 Only new spouses can be added
o A Veteran can receive up to $500 due to changes in final payoff figures, minor computational
errors, or reimbursement of out-of-pocket expense (i.e. credit report). It is not acceptable to
calculate the loan amount with the intention of returning the cash to the Veteran. $0 in Texas.
o DTI is not calculated
o Provide a VVOE or third party verification for income source
o Source of funds to close are not required on an IRRRL
o For an IRRRL to be considered a safe harbor qualified mortgage, the loan must meet all the
following requirements per 38 CFR 36.4300(c)(1):
 The loan being refinanced was originated at least 6 months before the new loan's
closing date, and the Veteran has not been more than 30 days past due during the 6
months preceding the new loans closing date;
 the recoupment for all allowable fees and charges (see 38 CFR 36.4313) financed as part
of the loan or paid at closing does not exceed thirty-six (36) months; and
 all other VA requirements for guaranteeing an IRRRL are met.
o Benefit to Borrower requirements:
 The interest rate on the new loan must be lower than the interest rate on the old loan,
unless the old loan is an ARM and the new loan is a fixed rate.
 The maximum loan term is the original term of the old loan plus 10 years, with the
maximum maturity date being 30 years and 32 days from date of closing.
 The P & I payment on the new loan must be less than P & I payment on the old loan
unless one of these exceptions applies:

• The old loan is an ARM and the new loan is a fixed rate, or

• Allowable energy efficient improvements are included in the new loan

• Lien Position
o First

• Manual Underwriting
o See the VA Manual Underwriting guidelines in the Knowledge Center

• Manufactured Housing
o Minimum FICO 600
o Appraisal must be ordered IND (Direct from VA, cannot be ordered LAPP through Gold Star)
o A higher subsequent use fee does not apply to a manufactured loan if the veterans' only prior
use of entitlement was for a manufactured home loan not classified as real estate.
o Primary Residence only
o Max LTV 100% on purchase
o Must be multi-wide unit
o Must be attached to a permanent foundation
o Must be built/constructed on or after 06/01/1976
o No repair escrows allowed
o No Leasehold
o New construction must be doublewide, and builder must be VA approved. No leasehold.
o No Flipping
o Minimum square footage is 600 sq. ft.; minimum 12ft wide
o Findings must be approve/eligible; no manual underwrites
o Manufactured Home must have been directly transported from the manufacturer or the
dealership to the site and cannot have been previously installed or occupied in another location.
o Manufactured homes located within a special flood hazard area are not eligible unless a FEMA
national flood insurance program (NFIP) Elevation certificate (FEMA Form 086-0-33) prepared by
a licensed engineer or surveyor stating that the finished grade beneath the manufactured home
is at or above the 100 year return frequency flood elevation is provided, and flood insurance
under the NFIP is obtained
o Manufactured homes that have an addition or have had a structural modification are eligible
under certain conditions. If the state in which the property is located requires inspection by a
state agency to approve modifications to the property, then the lender is required to confirm
that the property has met the requirement. However, if the state does not have this
requirement, then the structural modification must be inspected and be deemed structurally
sound by a third party who is regulated by the state and is qualified to make the determination.
In all cases, the satisfactory inspection report must be retained in the mortgage loan file.

• Maximum Loan Amount
o Max loan amount is $2.00MM
o Loan amounts over $1.00 MM require minimum credit score of 660

• Minimum Loan Amount
o $25,000

• Occupancy
o Primary residence only (non IRRRL)
o Second Homes not allowed (IRRRL only)
o Investment Properties not allowed (IRRRL only)
o Borrower may purchase new primary residence while retaining the current primary; permitted
for 2 VA loans if sufficient entitlement and satisfactory reason.

• Pre-Payment Penalty
o Pre-payment penalties are not permitted

• Program Codes and Terms
o Fixed
 VF15: 11 – 15 year terms
 VF20: 16 – 20 year terms
 VF25: 21 – 25 year terms
 VF30: 26 – 30 year terms
o Only whole year terms allowed

• Property; Eligible Types
o Single Family (Detached, Attached)
o PUD (Detached, Attached)
o VA-approved Condominium (Detached, Attached)
o Modular Home
o 2-4 Units

• Property; Ineligible Types
In addition to the ineligible property types identified in a VA Lender's Handbook, the follow property
types are ineligible:
 Manufactured homes
 Mobile homes
 Cooperatives
 Condotels
 Hotel Condominiums
 Timeshares
 Geodesic Domes
 Working Farms and Ranches
 Unimproved Land and property currently in litigation
 Commercial Enterprises (e.g. Bed and Breakfast, Boarding House, Hotel)
 Section 8 Housing

• Ratio
o Determined by AUS Certification and/or VA Lender's Handbook.
o Any allotments reflected on the LES or paystubs must be investigated to determine if the
allotment has an affiliated debt.
o In community property states, the spouse's debts and obligations must be considered even if
the Veteran wishes to obtain the loan in his or her name only.

• Recently Listed Properties
o VA IRRRL / Rate & Term – The subject property must not be currently listed for sale. It must be
taken off the market on or before the application date.
o Cash-Out Transaction – the listing must have been expired or been withdrawn 180 days prior to
the application date.

• Reserves
o SFR, reserves are not required
o Verify assets to close
o If using rental income from the subject 2-4 unit property, 6 months reserves required for multiunit properties
o Follow VA guidelines for all other reserve requirements.

• Residual Income
o Residual Income is the Borrower's net effective income minus monthly shelter expenses
o Residual Income must be in accordance with regional table and is a required calculation in
addition to DTI
o Net Effective Income is taken from Line 41 of VA Form 26-6393
o Monthly Shelter Expense is taken from Line 21 of VA Form 26-6393

• Sales Concessions
o Sales concessions cannot exceed 4% of the established reasonable value of the property (NOV)
o Does not include normal discount points and payment of the buyer's closing costs.
o Unused concessions can be used to payoff borrower debt to qualify – cannot exceed program
max allowable concession.

• Seasoned Loans
o All loan refinancing to VA must be seasoned a minimum of the greater of 210 days or 6 regular
monthly payments from the NOTE date. A copy of the CD will be required to meet the minimum
seasoning.

• Secondary Financing
o VA Fixed: Allowed

• State Restrictions
o Loans for properties in Hawaii are not eligible.
o Texas 50 (a)(6) loans are not allowed.

• Student Loans
o If the Veteran or other borrower provides written evidence that the student loan debt will be
deferred at least 12 months beyond the date of closing, a monthly payment does not need to be
considered.
o If a student loan is in repayment or scheduled to begin within 12 months from the date of
closing, you must consider the anticipated monthly obligation in the loan analysis and utilize the
payment established below. Calculate each loan at a rate of 5% of the outstanding balance
divided by 12 months (example: $25,000 student loan balance x 5% = $1,250 divided by 12
months = $104.17 per month is the monthly payment for debt ratio purposes).
 You must use the payment(s) reported on the credit report for each student loan(s) if
the reported payment is greater than the threshold payment calculation above.
 If the payment reported on the credit report is less than the threshold payment
calculation above, the loan file must contain a statement from the student loan servicer
that reflects the actual loan terms and payment information for each student loan(s).
The statement(s) must be dated within 60 days of closing and may be an electronic copy
from the student loan servicer's website or a printed statement provided by the
servicer.

• Tax Transcripts
o Tax transcripts are required for the most recent year of income submitted to the file. W2
transcripts are allowed for salaried Borrowers.
o Generally, when the documentation used to verify income is from the same calendar period as
the tax transcript, the information must match exactly. However, if the income documentation
is from the current calendar year and transcript is from a prior year, there can be acceptable
variances. If this variance exceeds 20%, document the rationale for using current income.
o If tax transcripts are not available (due to a recent filing) a copy of the IRS notice showing "No
record of return filed" is required along with documented acknowledgement receipt (such as IRS
officially stamped tax returns or evidence that the return was electronically received) from the
IRS and the previous year's tax transcript.
o A 4506-T, signed at application and closing, is required for all transactions per AUS findings
(except for IRRRLs).

• Title Insurance
o Required

• Transaction Types
o Purchase
o VA IRRRL / Rate & Term of an existing non-VA loans
 The veteran can receive up to $500 due to changes in final payoff figures, minor
computational errors, or reimbursement of out-of-pocket expense (i.e. credit report). It
is not acceptable to calculate the loan amount with the intention of returning cash to
the veteran.
 Loan cannot close until the greater of 210 days or six regular monthly payments have
passed from the date of the prior NOTE.
o Cash-out Type I and Type II allowed
 Loan cannot close until the greater of 210 days or six regular monthly payments have
passed from the date of the prior NOTE.
o No Construction to Perm Loans
o No Energy Efficient Mortgage Loans
o No Graduated Payment Mortgages
o Restructured loans or short payoff refinances are not eligible.
o NY CEMA transactions not allowed.

• Verification or Rent or Mortgage – REFER only
o Provide a 24 month rental history directly from the landlord, through information shown on the
credit report or cancelled checks.